Working from home has always had a bit of a weird schedule attached to it, but now that quarantine and COVID-19 are a regular norm, my daily work day looks quite different. Plus we've expanded our business services to doing boutique branding for companies which adds a whole new slew of changes. So here's what my work day looks like right now. Of course it changes from day to day, but on average this is what a regular day at home for me looks like.
8:00am: Wake up, get ready, and make myself a chai tea latte. We got a milk frother right before quarantine started and my life has been 100% improved by it.
8:45am: Sit down at my desk in my studio and start on emails. I rarely work in bed anymore and I feel like I'm officially adulting. Gone are the days of bed desk mostly because I have a blazing fast desktop computer now.
10:00am: Team meeting to talk about current projects, what everyone is working on, and goals for the week. We find ourselves doing a lot more team meetings now that we manage a handful of clients' marketing. We also have two rock star interns for the summer that we check in with regularly.
11:00am: client meeting. Sometimes there are a few in a day, but we often have at least one video meeting with a client. We'll go over what we're currently working on for them, get approval on things, and make plans for the next steps.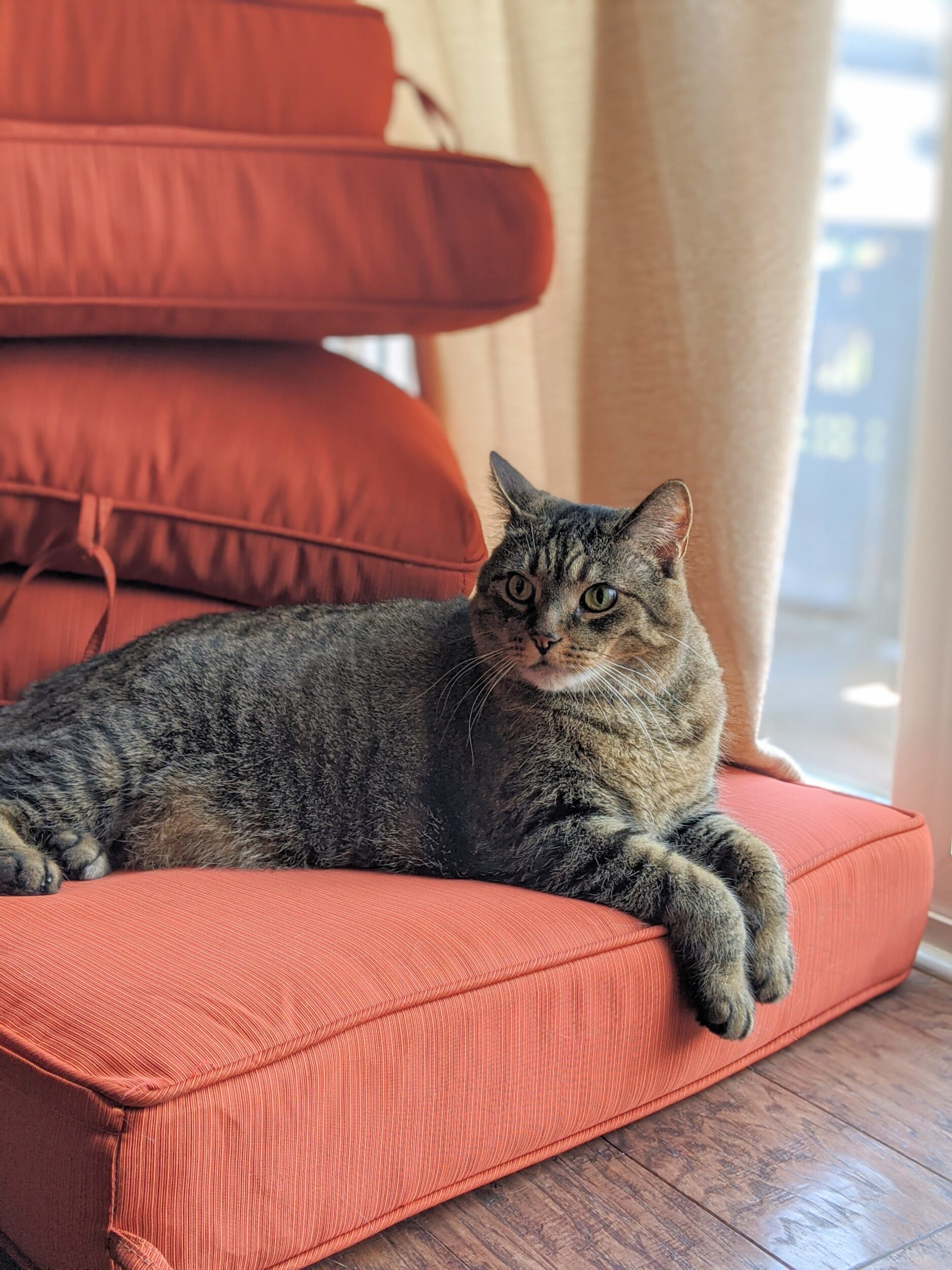 12:00pm: More emails. A lot of my life revolves around back and forth messages to get information, approval, and complete projects. It's really not quite glamorous. Mostly me typing away and looking out the window behind my computer at people walking their dogs.
12:30pm: Lunch time. This is where I'll play with the cats, change over a load of laundry, and eat (obviously). I've been going outside on our deck or the front porch to get some fresh air while I try to eat healthier.
1:00pm: After lunch it gets pretty quiet and I can buckle down and get the majority of my projects done. I do a lot of website design, content creation, and graphic design. 
3:00pm: Now this doesn't happen every day, but a lot of my committee meetings happen in the afternoon. I'm on a committee for the Grand Rapids Public Museum's annual gala, a wayfinding committee for signage downtown, as well as an ambassador council for the Chamber of Commerce. These committees help me feel like I'm still connected to the downtown although I'm not there in person.
5:00pm: If I've gotten through my emails and made headway on projects, I'll usually spend the last few minutes of my work day preparing for tomorrow. I'll look at my project boards and write up a to do list for tasks to complete the next day. That way I can feel like I'm ready for the morning and can enjoy my evening.
The rest of my day consists of hanging out with Alex, baking, working on personal projects, and playing a whole lot of Animal Crossing.
What does an average day look like for you these days?