With the new Cultivate What Matters planners appearing on social media, it felt time to talk about my failed experiences with Powersheets. I gave them an honest go for two years in a row with disappointing results. It boiled down to five reasons why the Cultivate What Matters Powersheets just didn't work for me.
1. OUT OF SIGHT OUT OF MIND
I've tried the multiple planner route for years and always come back to one planner and a to-do list notebook. Even if the Powersheets sat on my desk on a daily basis, I just never cracked it open like I do my main planner or to do lists. Despite adding a note in my main planner or a two do list item in my notebook, it would fall to the wayside week after week.
2. LONG TERM GOALS DON'T WORK FOR ME
Powersheets tries really hard to tackle this issue and if anything was going to work for me, it would be Cultivate What Matters. Yet I'm not a big picture person much to my husband and business partner's chagrin. A monthly goal or a quarterly goal is about as far as I can muster. Powersheets has audits and checkpoints in place to combat this, but I just can't stick with a goal that goes longer than a couple of months.
3. I DIDN'T TAKE ADVANTAGE OF THE SUPPLEMENTARY MATERIAL
Now I don't blame Powersheets for my failure. It's a great option for goal setting and I know it's worked for countless people (I'm envious for sure), yet I just didn't put my full effort behind the planner. Cultivate What Matters offers a ton of supplementary materials and resources to explore. I just didn't.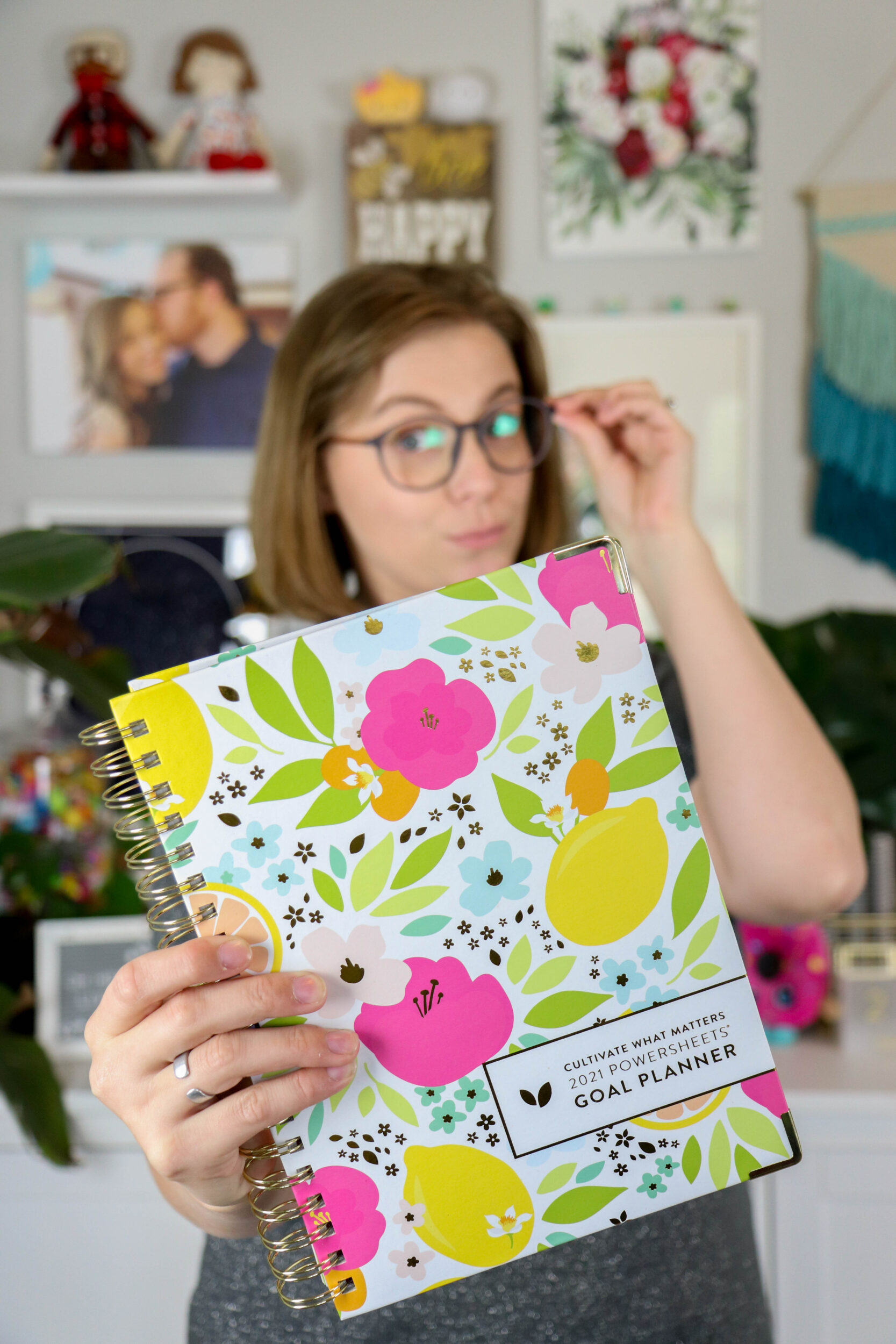 4. THE MOMENTUM FADES TOO QUICKLY
I'm absolutely obsessed with the starting pages of this goal planner. I'm tempted to purchase the 2022 version just for the first pages. I eagerly devour them and fill them out with so much gusto…and then it fades so quickly. Once I've rated my priorities and start to make goals, the inspiration fizzles. I just couldn't seem to keep that initial inspiration going.
5. I DIDN'T MAINTAIN ACCOUNTABILITY
I'm much more successful with goals when I have accountability. In my work life there are a ton of measurable goals in place with equally important accountability. Every week we have a meeting where we discuss goals, metrics, and moving the ship forward. That just didn't exist in my personal goal setting. Maybe I needed a buddy (I could have easily asked the goal setting guru Laken and yet here we are) or should have joined a group or something. Yet week after week I just didn't feel the pressure to bother with the goals when so many other "more pressing" issues kept coming up.
So there ya go. Cultivate What Matters Powersheets didn't work for me two years in a row mostly due to my shortcomings. If you're interested in goal setting and becoming more productive, take these five things into consideration so you don't end up with half-filled planners in your closet giving you serious guilt. Will I try Cultivate What Matters again in the future? Probably. But I definitely need to have these issues sorted out before I take a third stab…but third time's a charm right?